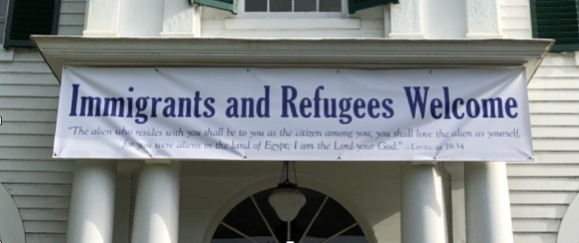 "Grace to you, and peace from God!"

These are the words that the Apostle Paul used to address the Christian church in Corinth, words that spoke of his affection for that community and a confession of where their true strength might be found: the God we know in Jesus Christ.
During these days of the coronavirus outbreak, when we are unable to gather in person to worship God, engage in fellowship, and serve his people, we are still one community of faith. We hope that you will join with us in the days and weeks ahead. While we have suspended on-site services and other events, we are still worshiping every week! And our communal life goes beyond Sunday mornings, so we encourage you to reach out to one another and be in touch with us by phone or email.
It is in times like the present that the church and what it represents are so important. We hope to see you in cyberspace, and we look forward to welcoming you to our sanctuary in the future.

Please click on the corresponding links below
for weekly worship resources, including an order of service, prayers, hymns, scripture readings, the Rev. Steve Silver's sermon, and a YouTube link to a pre-recorded service. We gather together for a live service on Zoom every Sunday morning at 10:00; for an emailed invitation link, please contact the
church office
.


Sunday, July 12 - Sixth Sunday after Pentecost
10:00 am Zoom Service
/
Bulletin
/
Sermon
/ YouTube

(The Rev. Steve Silver preaches this week on Matthew 13:1-9,18-23, "Some Pitfalls of Gardening.")

Sunday, July 5 -
Bulletin
/
Sermon
/
YouTube

Sunday, June 28 -
Bulletin
/
Sermon
/
YouTube1
/
2

Sunday, June 21 -
Bulletin
/
Sermon
/
YouTube

Sunday, June 14 -
Bulletin
/
Sermon
/
YouTube

Sunday, June 7 -
Bulletin
/
Sermon
/
YouTube


Following public-health recommendations regarding the COVID-19 pandemic, FCC has canceled all on-site events through at least August.
This includes regular worship services, meetings, performances, and other events. If you have questions about a particular event or any other aspect of this circumstance, please contact the church office at 603-448-4281 or church@fccleb.org.

Listen to a Sermon
-
Updated through Sunday, July 12, 2020

Submit a Prayer Request
Open Position: Organist/Choir Director (Part-Time)
(Please contact church@fccleb.org with applications or questions.)
June 2020 Newsletter
2019 Annual Report
(Abridged)
An
Open and Affirming
Congregation of the United Church of Christ