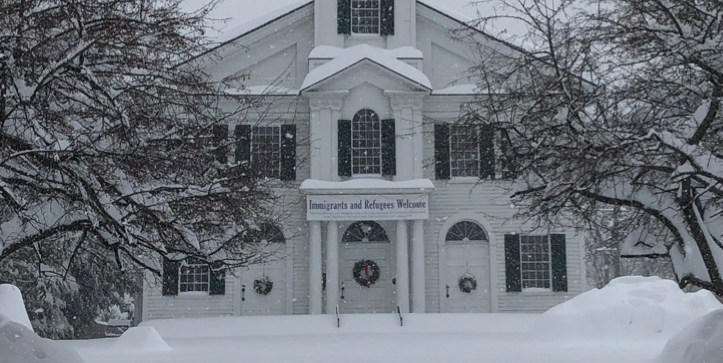 "Grace to you, and peace from God!"

These are the words that the Apostle Paul used to address the Christian church in Corinth, words that spoke of his affection for that community and a confession of where their true strength might be found: the God we know in Jesus Christ.
As we move together beyond the pandemic, we invite everyone to join in our community of faith, to gather to worship God, engage in fellowship, and serve his people. Whether on Sunday mornings or beyond, we encourage you to reach out to us and to one another, in person or by phone or email.

All visitors to FCC are strongly encouraged to wear masks indoors; vaccination against covid-19 is highly recommended, but not required.
We continue to be cautious about all on-site events here, and if you have questions about a particular event, please contact the church office by
email
or phone (603-448-4281).
We thank you for your cooperation with these basic precautions.

We offer in-person worship services every Sunday morning at 10:00, with a live stream available on Zoom.
Please click on the corresponding links below for worship resources; to receive the Zoom link, please contact the church by
email
or phone (603-448-4281).


Saturday, Jan. 28, at 7:00 / Sunday, Jan. 29, at 3:00 -
Music at the Meetinghouse! Upper Valley Baroque: The Italian Concerto
(Directed by the energetic Filippo Ciabatti, this acclaimed professional ensemble offers six Baroque concerti featuring virtuoso soloists. Tickets starting at $25; more information at
www.uppervalleybaroque.org
.)

Sunday, January 29 - Fourth Sunday after Epiphany
10:00 am: Worship in the Parish Hall
(Zoom available)
-
Bulletin
/
Sermon
/
YouTube
For those who can't or don't wish to attend worship in person, we offer a live stream of the service on Zoom; please contact the church office by
email
or phone (603-448-4281) to receive the Zoom link.
The Rev. Steve Silver will preach on Matthew 5:1-12, "Mission Statements."


Friday, February 3, at 7:30 pm -
Music at the Meetinghouse! The Anonymous Coffeehouse
(Enjoy our popular community venue for live local music, with several acts each show. Free admission, donations welcome; more at
anoncoffee.org
.)


Sunday, February 12, at 11:30 am
(Zoom only)
- 2023 Annual Meeting of FCC-Lebanon
(Click
here
for meeting warrant; contact the church office for the Zoom link, if you don't normally receive it for Sunday morning worship.)

Recent Worship Services

January 22 -
Bulletin
/
Sermon

January 15 -
Bulletin
/
Sermon

January 8 -
Bulletin
/
Sermon
/
YouTube

January 1, 2023 -
Bulletin
/
Sermon
/
YouTube

Christmas Day -
Bulletin
/
Sermon

Christmas Eve - 5p
Bulletin
- 8p
Bulletin
/
Meditation
/
YouTube
January 2023 Newsletter
2021 Annual Report
(Abridged)
Listen to a Sermon
(Updated through Sunday, January 22, 2023)

Submit a Prayer Request
An
Open and Affirming
Congregation of the United Church of Christ